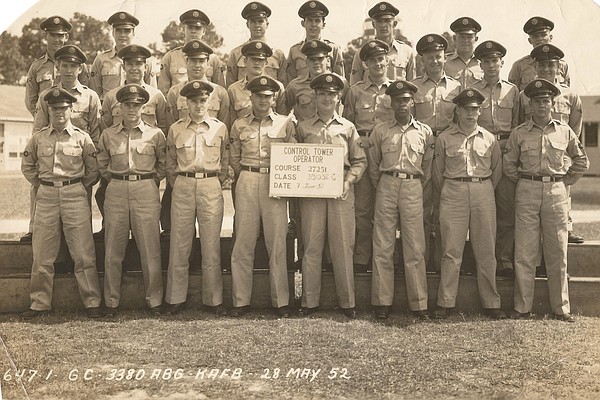 Sunday, February 9, 2020
Clifton D. Wanzer graduated from Parker-Gray School in 1948. In those days, there were not many employment opportunities for African Americans. After graduation, Wanzer worked as a porter, and later as a receiving clerk at a top-notch men-clothing store, Cohen's Quality Shop, but he was longing for something else. He decided to enlist in the military.
In 1952, he enlisted in the United States Air Force. While in the military, he received training in Biloxi, Miss., as an Air Traffic Controller. He was the only African American in his class, but he completed his service in 1956. When Wanzer returned home, he obtained a job with the State Department where he processed passports. He stayed at the State Department for a short time until his aunt heard on the radio about the government recruiting Air Traffic Controllers. She encouraged him to apply for the job and after several months, he was interviewed and hired as an Air Traffic Controller at the journeyman level for the Federal Aviation Administration.
His job as an Air Traffic Controller was to determine an aircraft's identity, altitude and other data through alphanumeric codes on a radar screen. This monitoring was used to keep planes apart from one another in the air. Today, computers have replaced the type of monitoring he performed.
His job sent him to Youngstown-Warren Regional Airport in Ohio, then to Allegheny Airport in Pittsburg. After some time in Pittsburg, Wanzer decided to get a job closer to Virginia. There was a job opening at National Airport in Washington, D.C.; he applied for it and got it. He was promoted and then received a higher grade.
Wanzer returned to the District of Columbia area in 1960. Thereafter, he and his family began looking for a house to buy on Quander Road in Fairfax. They found one but could not buy it because of housing discrimination during that period. They experienced this not once but many times while searching for housing. They went to Maryland to look at a new development in Glenarden, where he finally purchased a new home.
Wanzer worked for the FAA at Washington National Airport from 1960 to 1989. During his career at the airport, he was promoted to an Air Traffic Area Supervisor and then to Manager. In 1984, he received, "A Special Award," for his service from the head of the FAA, Donald J. Engen. In 1989, with over 30 years of service at a GS-15 grade and at the age of 58, Wanzer retired. He was one of the first African Americans in Alexandria to become an Air Traffic Controller.
Wanzer was born on Jan. 15, 1931, to Daniel Wanzer and Viola Williams in the Seminary area. He has two living siblings, Janet and Gerald Wanzer. Wanzer is married to Irene Lee. They had two children: a deceased daughter named Leslie, and a son, Kurt that lives in Maryland.
Wanzer is a lucky man to have served in the USAF. His training in the Air Force enabled him to have a civilian career as an Air Traffic Controller during the last decades of segregation. He was indeed in the right place at the right time to have the opportunity to be in the Air Traffic Controller's Tower.
Wanzer still lives in Glendaren in the house he purchased in 1964. He still thinks about the opportunity he missed to buy a property on Quander Road. His family history in Virginia spans over 150 years.
Char McCargo Bah is a published author, freelance writer, independent historian, genealogist and a Living Legend of Alexandria. She maintains two blogs, http://www.theotheralexandria.com and http://www.findingthingsforu.com.