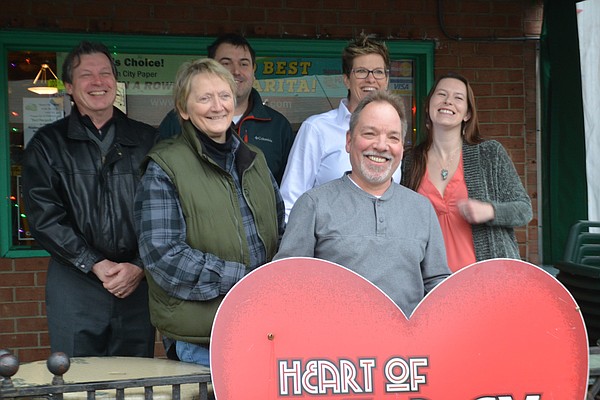 Monday, February 10, 2020
Every February, the Del Ray Business Association presents the Heart of Del Ray Award to the business that serves as the heart and soul of Del Ray, as determined by a public vote of neighbors and customers. Selection is based on which business best demonstrates their warm and welcoming attitude to the community and customers, their commitment and generosity to the community, and to their overall contribution to Del Ray.
The nominees for the 2020 Heart of Del Ray: Lena's Wood-Fired Pizza and Tap; Ms. Preeti's 7-Eleven; Rock of Ages Music; Stomping Ground; and Studio Body Logic.
Visit www.visitdelray.com/heartofdelray to read more about these businesses and to cast your vote. Voting closes at noon on Wed., Feb. 12. A large heart-shaped award will be displayed at the winning business on Feb 13. to greet them for the Valentine's Day weekend.
A business can only win the award once. Past winners of the award include A Show of Hands, The Jen Walker Team, Bobi Bomar Homes of Alexandria, The Neighborhood Pharmacy of Del Ray, Greener Cleaner of Del Ray, Del Ray Pizzeria, Mind the Mat Pilates & Yoga, Caboose Cafe, Del Ray Cafe, Pork Barrel BBQ/Holy Cow/The Sushi Bar, and Taqueria Poblano.