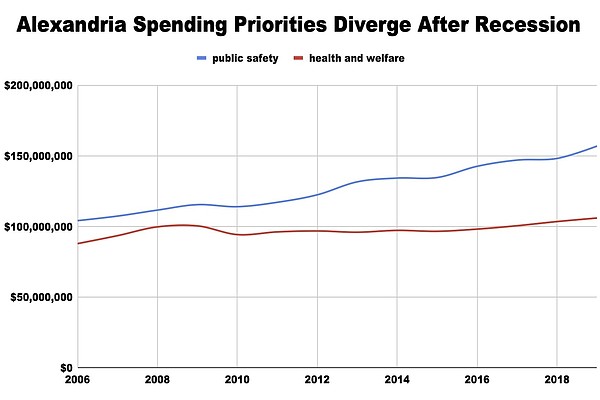 Thursday, July 9, 2020
Since the recession, spending on public safety in Alexandria has increased year after year. According to documents from the Virginia Auditor of Public Accounts, that category of government spending has increased 38 percent since 2010 as city leaders increased salaries for police officials and funded new positions at the city's emergency communications center. But during that same time, spending on health and welfare programs has increased only 12 percent. Spending on social services has actually gone down since 2010.
"Every year I would show up at the budget hearing to yell at them that they were cutting the health and human services budget," said Mary Anne Weber, former chairwoman of the Alexandria Community Services Board. "They have some excellent people working in health and human services, and they're very committed and dedicated. But there's not enough of them, and some of them are doing double duty."
The category of spending the auditor calls "health and welfare" includes things like children's services, energy assistance and hospitalizations for the indigent. In some cases spending in this category has increased. For example, funding for the Department of Health increased 46 percent since the recession. And spending on services for mental health and substance abuse has gone up 35 percent. But city records show social services and income support benefits have declined by more than $2 million since 2010.
"We feel that the city hasn't been bold enough," said Ingris Moran, lead organizer at Tenants and Workers United. "Our elected officials haven't been bold enough to create systematic change, and I think Alexandria, being so progressive, our policies don't practice that."
SPENDING ON PUBLIC SAFETY isn't necessarily correlated to crime statistics. In the last decade, violent crime has gone down about 30 percent across Virginia according to the FBI. And yet spending on local law enforcement has not gone down at all in Virginia. Here in Alexandria, budget documents show the city now spends about $10 million more for law enforcement and traffic control, an 18 percent increase. Some say the drop in crime should have led to a reduction in funding for police.
"We haven't seen a corresponding drop in the amount of money that our state and local governments spend on law enforcement," said Laura Goren, research director at the Commonwealth Institute. "That means we're still spending large shares of our budgets on law enforcement despite having much lower crime rates than in the past."
In the last decade, crime in Alexandria has gone down in every category. The most serious crimes like murders, rapes and assaults are down. Nuisance crimes are lower than they were a decade ago. Overall the number of arrests are down. And yet spending on public safety has increased. Although the Commonwealth Institute says that shows an imbalance between spending priorities and demonstrated need, others say the lower crime stats are an indication that the investments are working.
"I think that spending has had some positive effect," said Frank Shafroth, director of State and Local Government at George Mason University. "So I think there would be reluctance on the part of any elected officials to say we need to cut it back."
BUDGET OFFICIALS say a number of forces are at work in Alexandria that are reflected in spending trends since the recession. The rise in money toward public safety has been driven by three developments: the creation of a new emergency communications system, the opening of two new fire stations, and increased salaries. The new communications system is staffed by employees that were moved into the public safety from a different department, and new firefighters were hired to work at the new fire stations. Salaries have gone up across the board for people who work in public safety.
"We've made annual market rate pay adjustments in both police and fire to remain competitive with the marketplace," said Morgan Routt, director of the Office of Management and Budget. "The same thing has been occurring in other jurisdictions too where another jurisdiction will increase their rate of pay and make themselves more attractive to potential recruits, and then the other jurisdictions will have to raise their pay to remain competitive."
One of the chief differences in spending between public safety and health and welfare programs is where the money comes from. The vast majority of money for police departments and fire departments comes from local governments in Virginia. But most of the funding for health and welfare programs, on the other hand, comes from state and federal sources. One reason funding for social services is down in Alexandria is reduced federal spending in Washington for programs like food stamps and welfare.
"There's a more significant portion of that funding that comes from state and federal sources in the health and human services area than in the public safety arena," said Routt.
SPENDING CATEGORIES are standardized for every local government in Virginia in a way that state and local leaders can easily compare spending across the commonwealth. But sometimes spending within categories might be counterintuitive, revealing spending on social services that might be embedded in public safety. During a Black Lives Matter forum last week, Alexandria Mayor Justin Wilson was asked if he had a plan to move away from funding police and toward more money for social services.
"A portion of the police and sheriff's budget include a variety of different social services," said Wilson. "Certainly in the sheriff's department, there are a variety of different mental-health services and substance-abuse services as well as other things I think most people would deem social services."
Critics of that approach say it's a mistake for Virginia jails to act as institutions to handle people coping with mental health or substance abuse issues. Perhaps the most notable example of this is Natasha McKenna, an African American woman who suffered from schizophrenia. A car rental store on Pickett Street called 911 when McKenna was causing a disruption. She ended up assaulting several Alexandria officers, who took her to the mental health unit at Mount Vernon Inova Hospital. She was later released from the hospital, and then taken into custody at the Fairfax County jail. She died after Fairfax sheriff's deputies used a Taser on her multiple times when they were trying to transfer her to Alexandria so she could face charges from a felony warrant for assaulting an Alexandria police officer.
"The reason why the sheriff is spending on mental health and substance abuse services is that we've made the jails into Virginia's drug treatment and mental health institutions of choice instead of investing in community-based services designed to prevent and treat people with either a mental health problem or substance abuse disorder," said Claire Gastañaga, executive director for the ACLU of Virginia. "I don't know what else is in the budget in Alexandria that the mayor would call social services. Police athletic leagues? Officer Friendly?"
ONE POTENTIAL SOLUTION might be the creation of a mobile crisis unit. Currently, Alexandria has crisis-intervention training for police officers. And several of the officers who responded to the Pickett Street call had that training, which is why they took her to the mental-health unit at Mount Vernon Inova instead of the Alexandria jail. But the creation of a mobile crisis incident unit in Alexandria would be a way for the city to use mental-health tools to respond to a mental health crisis rather than using law enforcement to respond.
"If somebody is causing antisocial behavior or acting out criminally and the underlying root cause for that is mental health issues, then the right response is not to just threaten jail, it is to address the underlying root causes," said Alexandria Commonwealth's Attorney Bryan Porter.
But, he added, the serial murderer who killed three Alexandrians before being caught also suffered from mental illness.
"There are situations that are rare and few and far between where you have to take the situation seriously as well," he said.