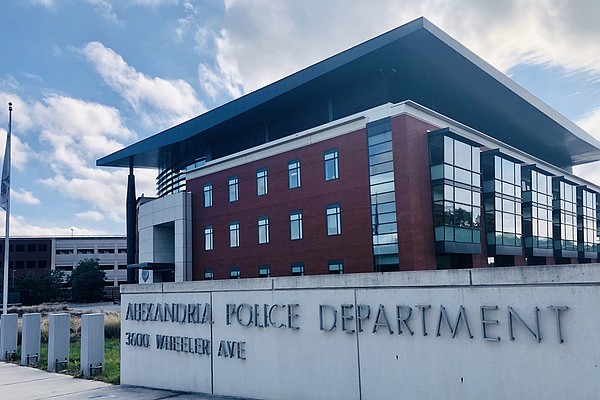 Thursday, October 22, 2020
Black people are a minority in Alexandria, and they're often a majority of those who are policed in the city. Documents from the Alexandria Police Department show most arrests are of Black people. Most times force is used, it's against a Black person. Most drug arrests are of Black people, particularly Black men. Almost half of the inmates in the Alexandria jail are Black people.
Last spring these kinds of disparities across the country created a groundswell of support for a new civilian review board in Alexandria, a group that could investigate excessive use of force and abuse of authority. Since that time, the General Assembly passed a new law giving these kinds of bodies authority to subpoena documents and witnesses as well as make binding disciplinary determinations. Now members of the City Council are about to consider several options for what kind of civilian review board they want to create.
"This is not anti-policing at all. This is pro-community and pro-accountability," said Councilman Mo Seifeldein, who suggested the city create a civilian review board back in June. "The police review board should absolutely have investigate power with the option to subpoena if necessary."
When the City Council started considering the issue in June, Alexandria Police Chief Michael Brown responded that the proposal sent the wrong message about law enforcement.
"A review board, as a phrase in our world of policing, has a very negative connotation," said Brown. "It's considered, in many cases, a threatening title."
MEMBERS OF THE Alexandria City Council will be considering three different models for whatever they decide to call the new board. One model would be concurrent investigations, having the new board conduct a separate review simultaneous to but apart from the police review. Another proposal would create a hybrid model where the members of the civilian review board would work with an auditor to be part of the official police investigation. A third model would place all investigations of excessive force or abuse of authority into the hands of the review board, an approach some advocates say would be the best way to restore confidence.

"Overall, we've truly lost trust in police enforcement," said Ingris Moran, an organizer for Tenants and Workers United. "So I think this would be a great opportunity to really change the structure of things."
In a letter to the editor of the Alexandria Gazette Packet published last month, Lt. Marcus Downey and Officer Oscar Olland outlined the concerns about the proposal from members of the Alexandria chapter of the International Union of Police Organizations. They said hundreds of Alexandria police officers were surprised by the City Council's decision in June to create a civilian review board, adding that the department is a "beacon of honor, respect and accountability to the residents and visitors of the city."
"We ask that City Council make reasonable, appropriate decisions based on facts specific to residents and employees of this city," they concluded, "not create a superfluous program in attempt to make an example of our department."
WHAT KIND OF investigative powers the newly created board would have has been a sticking point since Councilman Seifeldein first suggested the idea last spring. The first proposal considered by City Council created a civilian review board that didn't have any investigatory powers. Council members rejected that proposal and sent city staff back to the drawing board to come up with a series of options for how members of the newly created board could scrutinize excessive force or abuse of authority. One issue that still needs to be resolved is whether the board needs subpoena power to compel witnesses and documents.
"Boards that use subpoena power are almost always subpoenaing complainants and civilians," said Sarah Graham Taylor, the city's legislative director. "Police officers are already compelled to respond to their employers inquiries about their job performance. They're legally required to do that."
Advocates for policing reform say subpoena power is crucial to making Alexandria's new civilian review board a success. They say police officers may be legally required to participate in investigations, but that's only part of any investigation into excessive force or abuse of authority.
"I don't think there's any other way to get the information you need and compel cooperation," said Jon Liss, co-executive director for Virginia New Majority. "If you're doing an investigation, and you have five witnesses and they all have a well-founded fear of the police, then you have four of them that don't talk. That seems like a problem."
INVESTIGATIONS COULD be triggered in a number of situations. Any time a gun is fired, for example, that would trigger an investigation. Witnesses would be interviewed by the civilian review board, which could have the power to decide the discipline officers who are determined to have engaged in wrongdoing. Investigations could also be triggered by allegations of excessive use of force or abuse of authority. Seifeldein says once officers are outfitted with body-worn cameras, making these kinds of determinations will be easier.
"We can easily look into whether there's a prima facie case to go investigate alleged misconduct or not," he said. "If you feel that the conduct was outside the bounds of regular policing, you could call it in and then the body would be able to do an initial inquiry to determine if the action should move forward."
Three Different Models:
Concurrent Investigations: The newly created civilian review board would have authority to conduct investigations, which would happen concurrent to the review conducted by the Alexandria Police Department. This model would allow for two separate investigations conducted by two separate groups, which would present two separate sets of findings.
Hybrid Model: The newly created civilian review board would work with an auditor to conduct an investigation along with the Alexandria Police Department. Instead of two separate investigations, the integrated approach would result in one report at the end of the process rather two dueling documents that might draw separate conclusions.
Civilian Authority: The newly created review board would have authority over investigating all incidents where the police are accused of excessive force or abusing their authority. Under this model, the Police Department would not be conducting any review. All investigative power would be in the hands of the civilian review board.